Press Release
UCLA Anderson Forecast Predicts Slow Growth at State and National Levels This Year
Faster Growth Expected by 2014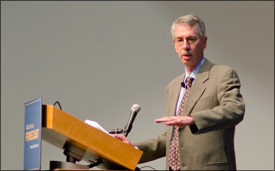 Los Angeles, September 20, 2012 - The UCLA Anderson Forecast says that Gross Domestic Product (GDP) growth in the U.S. will remain tepid throughout 2012. In its third quarterly report of 2012, the Forecast expects to see 1.3% growth for the third quarter of this year and 1.5% growth in the fourth. In 2013, the outlook is for growth above 2%, but 2014 "could very well put the run rate of GDP growth in excess of 3%, as economic activity is buoyed by strength in residential and nonresidential construction and a rebound in export growth."

In California, the current forecast reflects the national forecast with continued, but slightly slower gains in employment through 2012, with faster-paced growth throughout the forecast period, which runs through 2014. This uptick in growth will result in a breakthrough to single-digit unemployment.

The National Forecast

In his September Forecast report, UCLA Anderson Forecast Senior Economist David Shulman labels current conditions in the U.S. as "the muddle through economy," noting that the economy continues to limp along at a very sluggish pace as it has since the low point of the "Great Recession" in mid-2009. Shulman notes that real GDP growth has been in the 1-3% channel and is now operating at the lower end of that range.

Shulman says this tepid growth, combined with a structural adjustment in the economy, has caused employment gains to be modest, resulting in an unemployment rate above 8% for three and a half years. "With several quarters of 1-2% growth ahead of us we do not expect the unemployment rate to dip below 8% on a quarterly basis until the first quarter of 2014," writes Shulman. "Simply put, job growth on the order of 160,000 a month in 2013 will not be sufficient to make any real dent in the unemployment rate. However, as job growth accelerates to 200,000 a month in 2014, the unemployment rate will begin to meaningfully improve."

Shulman's optimism about 2013 and 2014 is buoyed by what he calls "the lone bright spot in the economy," the long awaited rebound in housing construction. "Led by multi-family construction, housing starts are ramping up from 612,000 units in 2011 to 763,000 units this year and just under one million units in 2013. By 2014, we anticipate that housing starts will be in excess of 1.3 million units (and) the growth in housing will account for about a full percentage point in GDP growth by 2014." Shulman says the strength in housing is underpinned by gradually rising home prices, record low mortgage rates, improved household formations and modest employment growth.

On the flip side, Shulman warns that if Congress and the President fail to agree to an end of year compromise on taxes and spending, the economy could fall off the "fiscal cliff", leading to a downturn in 2013.

The California Forecast

In the California report, Senior Economist Jerry Nickelsburg examines how California's exports and their volumes affect employment growth in the state. After establishing that exports are an important part of the California economy (if exports of goods were an independent sector, it would be one of the state's top five), Nickelsburg's analysis reveals that "while California's exposure to the international economy is substantial, the sensitivity of the California economy to international risk is only marginally above the national risk."

The current California forecast calls for the state's unemployment rate to be at 7.9% and within 0.4% of the U.S. rate by the end of the forecast period. The forecast for 2012 calls for employment growth of 1.8%, 1.6% and 2.4% in 2012, 2013 and 2014 respectively. Payrolls will grow more steadily at 1.7%, 1.5% and 2.3% for the three forecast years. The unemployment rate will hover around 10.7% through 2012 and average 9.8% throughout 2013. In 2014, the forecast says the unemployment rate will drop to 8.5%, just shy of a percent higher than in the U.S.

About UCLA Anderson Forecast

UCLA Anderson Forecast is one of the most widely watched and often-cited economic outlooks for California and the nation and was unique in predicting both the seriousness of the early-1990s downturn in California and the strength of the state's rebound since 1993. More recently, the Forecast was credited as the first major U.S. economic forecasting group to declare the recession of 2001.

About UCLA Anderson School of Management

UCLA Anderson School of Management, established in 1935, is regarded among the very best business schools in the world. UCLA Anderson faculty are ranked #1 in "intellectual capital" by BusinessWeek and are renowned for their teaching excellence and research in advancing management thinking. Each year, UCLA Anderson provides management education to more than 1,600 students enrolled in MBA, Executive MBA, Fully-Employed MBA and doctoral programs, and to more than 2,000 professional managers through executive education programs. Combining highly selective admissions, varied and innovative learning programs, and a world-wide network of 35,000 alumni, UCLA Anderson develops and prepares global leaders.