Press Release
National Economy Falls Short of True Recovery
California Employment Growth Remains Steady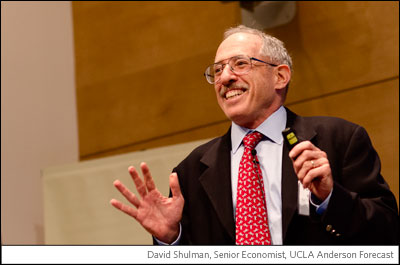 LOS ANGELES (June 5, 2013) -- In its second quarterly report of 2013, the UCLA Anderson Forecast's outlook for the United States says that despite "improvement in both GDP and key economic sectors, the overall growth falls short of the rates required for the national economy to truly recover from the most recent recession."

In California, the outlook differs little from last quarter, adjusted only to reflect the most current data. The factors driving California employment and income growth to rates higher than the U.S. remain. As the global economy improves with greater investment in the U.S., the state will again benefit from a disproportionate share of the improvement.

The National Forecast

In the June Forecast report, UCLA Anderson Forecast Director Ed Leamer writes that despite the positive growth in GDP and in key economic sectors, the U.S. economy is not in recovery, as the growth falls far short of the levels needed to bring the economy back to trend. "U.S. real GDP is now 15.4% below the normal 3% trend," Leamer writes. "To get back to that 3% trend, we would need 4% growth for 15 years, or 5% growth for eight years, or 6% growth for five years, not the disappointing 2s and 3s we have been racking up recently, which are moving us farther from trend, not closer to it. It's not a recovery. It's not even normal growth. It's bad."

Leamer's essay, titled "Great Recovery: Wherefore Are Thou," delineates a paradox. Growth in GDP is positive, but not exceptional. Jobs numbers are improving, but not rapidly enough, and the jobs being created are not necessarily jobs that will ensure workers a secure future. Meanwhile, Leamer says, the tepid growth continues to obscure the nation's most fundamental problems; too much government spending funded with too much borrowing, too little national savings to cover late-in-life health care issues and too many workers lacking the skills to compete in the modern economy.

Despite the problems, the current forecast is slightly better than those of the recent past and 2015 is expected to be better than 2014. Real GDP edges up to 3% by 2015. The Fed Funds interest rate will remain near zero, as a continuing dose of monetary medicine. The unemployment rate will fall to 6.6% by 2015, due in part to a growing base of discouraged workers. Leamer also writes that the "genuinely good news is that we are in the early stages of a real recovery in housing. Housing starts, which fell to a historic low of 550,000 in 2009, will climb back to the normal 1.5 million by 2015."

In a companion piece, David Shulman, senior economist with UCLA Anderson Forecast and UCLA Ziman Center for Real Estate, takes a closer look at the housing recovery. "Home prices are rising and housing starts have approximately doubled from their depression lows of a few years ago," Shulman writes.

Shulman's forecast says that housing starts will reach a run rate of 1.6 million units by mid-2015 and home prices will continue to rise. Specifically, housing starts are expected to increase from 782,000 units recorded in 2012 to 1.03 million and 1.35 million units in 2013 and 2014 respectively, reaching 1.56 million by 2015. Multi-family housing starts will continue to rise, with an excess of 400,000 units a year being started in both 2014 and 2015.

The California Forecast

The California forecast report, authored by Senior Economist Jerry Nickelsburg, notes that California continues to lead the measured growth seen in the national economy, a trend consistent over the past four years since the end of the recent recession. The difference at this point lies in the construction sector. "As job gains accumulate, household formation rates increase and the demand for housing, finally, is generating new residential construction," Nickelsburg writes.

Nickelsburg says California has been one of the bright spots in the U.S. employment picture. California's employment growth has been consistently in the Top 10 of states. For the twelve months ending in April 2013, only Utah's employment growth rate grew faster. While the increase in California jobs has been widespread, the economy's strength lies in the state's technology and knowledge-laden sectors, which use technology and information more heavily, accounting for more than half the job growth in the state.

The forecast for 2013 is for total employment growth (payroll, farm and self-employed) of 2.6% and 2.1% in 2014 and 2015. Non-farm employment will grow more slowly at 2% in both 2013 and 2014 and 2.2% in 2015. Real personal income growth is forecast to be 2.3% in 2013; followed by 3.5% and 3.3% in '14 and '15. Unemployment will fall through 2013 and will average approximately 9.1% for this year. In 2014, we expect the unemployment rate to drop to 8.1% and then to 7.1%.

Additional Reports

In addition to the forecast reports, UCLA Anderson Forecast economist William Yu publishes an essay on housing prices. His research focuses on the fundamental factors that predict the long-term home price appreciation in a city. Yu writes that from 1995 through 2012, there has been a wide disparity of home price growth across cities. He cites five determinants to explain price appreciation, including home supply, economic growth, geographic constraints, human capital and ocean amenities. Yu writes that "L.A. has a relatively low supply of homes, considering its population and economic growth, compared to most other cities." His research suggests that a reduction in unnecessary regulation barriers with a more widespread public transportation system would result in a greater supply of homes, especially multi-family homes, which will help relieve the housing affordability problem in L.A.



About UCLA Anderson Forecast

UCLA Anderson Forecast is one of the most widely watched and often-cited economic outlooks for California and the nation and was unique in predicting both the seriousness of the early-1990s downturn in California and the strength of the state's rebound since 1993. More recently, the Forecast was credited as the first major U.S. economic forecasting group to declare the recession of 2001.

About UCLA Anderson School of Management

UCLA Anderson School of Management, established in 1935, is regarded among the very best business schools in the world. UCLA Anderson faculty are ranked #1 in "intellectual capital" by BusinessWeek and are renowned for their teaching excellence and research in advancing management thinking. Each year, UCLA Anderson provides management education to more than 1,600 students enrolled in MBA, Executive MBA, Fully-Employed MBA and doctoral programs, and to more than 2,000 professional managers through executive education programs. Combining highly selective admissions, varied and innovative learning programs, and a world-wide network of 35,000 alumni, UCLA Anderson develops and prepares global leaders.